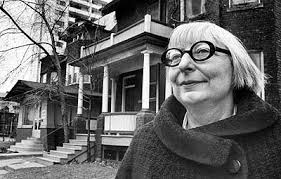 1. This week I wrote three articles: one for Governing Magazine about how to make pedestrian malls successful; and two for Forbes—about how Syracuse is squelching a driveway-sharing app, and the latest attempts from San Francisco NIMBYs to stop a Warriors arena.
2. Today would have been Jane Jacobs' 99th birthday, and I know many of you celebrated by attending (or hosting) Jane's Walks in your cities. Because of other obligations, I wasn't able to attend the Miami one, which was hosted in Little Havana by local realtor Carlos Fausto Miranda. If any of you did, tell me how it went.
3. I hate to use Jacob's birthday as an excuse to seem divisive, but there's something about her writings—and the way they're interpreted—that I want to explore:
The thing that's always made Jane Jacobs's work so refreshing is that it has ideological crossover appeal. But this has also caused different schools of thought to emerge about her.
The left-leaning among Jacobs' fans emphasize her work on urban form. Jacobs' favorite neighborhood was her home base of Greenwich Village, and living there inspired her vision for other neighborhoods. As she brilliantly explained throughout The Death and Life of Great American Cities, the ones that functioned best had traditional street grids, human-scale buildings and parks, a mix of old and new architecture, and pedestrian accessibility. These elements of her teaching have been embraced by New Urbanists like Andres Duany, who have built entire neighborhoods on her principles; and by "smart growth" planners, who take the next step by imposing historic overlays and "form-based codes" on urban areas. These latter moves are done to stave off modernization, which they see as threatening Jacobs' aesthetic vision for cities.
But the right-leaning side of Jacob's followers focus less on design, than on her economic teachings, many of which came in later works. They adore the woman who loathed central planning and land use controls, and who thought that the "organized complexity" of city life was best tackled through organic growth. Rather than advocating for new layers of regulation, then, conservatives view Jacobs as an early advocate of market-based solutions. This side is led by people like Edward Glaeser, a proponent of more skyscrapers. Although skyscrapers might be taller than Jacobs' ideal neighborhood, he argues, they would be a Jacobian response to many cities' housing shortages, and if designed properly, would generate the street life she described.
I'm not here to say that one side is right or the other wrong. Both Jacobs' economic and design teachings—and the way they've been interpreted—have been mostly beneficial for cities. But I will say that the New Urbanist side has gotten more representation. If you think today of what someone means when referring to a "Jane Jacobs-style neighborhood," you picture a medium-density area with historic character, pocket parks, and niche coffee shops—places like Greenwich Village, The Haight in San Francisco, Capitol Hill in Seattle, Wicker Park in Chicago, or Boston's Back Bay. Meantime, large-scale neighborhoods—such as a typical downtown business district—are considered antithetical to Jacobian urbanism, and are frowned upon by planners.
I wish this perception would change, though, because high-rise neighborhoods play a role in cities that Jacobs would have appreciated. As I wrote on this site several weeks ago, the Miami neighborhood of Brickell—which is an overnight skyscraper zone that would have Glaeser beaming—is essential to the city's economy, providing housing, offices, and recreation for the ever-important banking industry. It has also helped preserve surrounding downtown neighborhoods, by containing the city's banking wealth to a small area, rather than having it inflict gentrification elsewhere. While Brickell doesn't yet have great pedestrian infrastructure, the neighborhood's sheer density has made it (as Glaeser would have predicted, and Jacobs would have liked) one of the city's most active around the clock.
Yet I can't imagine Brickell ever being the subject of a Jane's Walk. There is something about the neighborhood's sensibility—corporate, wealthy, glossy, neo-liberal—that doesn't gel with Jacobs' left-wing faction. However, Brickell and other skyscraper neighborhoods are essential in helping cities grow and stay competitive in a global economy. True fans of Jacobs should see the value of encouraging (or at least allowing) such neighborhoods, as a compliment to the more traditional-style ones.