Miami, FL
1. The two Forbes articles I wrote this week are about New York City mayor Bill de Blasio's effort to modernize the city's courts; and a tech program under New York governor Andrew Cuomo that failed colossally in year one.
2. The highlight of my week, though, came at the tail end on Saturday night, when I explored Miami's Little Havana, a Cuban neighborhood outside of downtown. What surprised me was how Cuban it actually was, despite abutting one of the nation's booming financial districts. Almost everyone there is Cuban—save the few gringo tourists like me—and the neighborhood is rooted in their culture. Spanish is the first language, salsa music echoes through the streets, and retail areas are lined with Caribbean cuisine. It's not unusual to find live chickens running though people's backyards. The architecture reflects what I've seen in photos of Havana, and hasn't been interspersed with condos and yoga studios.
This surprised me because, usually when I walk into such neighborhoods that abut rich areas, I find that they have been gentrified past the state of being "ethnic." For example in San Francisco, The Mission District, historically the city's Mexican neighborhood, is a shell of its former self. While it may have some streets dedicated to Mexican culture, there is literally a one-block demarcation from hipster Valencia Street, and the only thing keeping the old-timers around is rent control. San Francisco also has an increasingly diluted Chinatown and Japantown, and the decline of its black culture is well-documented. Meanwhile Miami's "Little Havana" is still Cuban and historically-black Overtown remains black. Both neighborhoods are a stone's-throw from downtown.
The fact that Miami is better than San Francisco at preserving close-in ethnic neighborhoods is surprising, because the cities are similar. Both have experienced a flood of new people and capital due, respectively, to their booming financial and tech industries. Both are warm-weather cities that attract tourists, artists, and the creative class. So how has Miami resisted gentrification? The answer lies in its downtown housing policies.
Rather than acting like they had no clue what to do with all these incoming rich people, Miami officials allowed them a place to go: Brickell. This is a neo-liberal mecca that several decades ago was a low-slung neighborhood. But in the 1970s, it began attracting small banks, and in the decades since has boomed into the "Wall Street of Miami." It is now home to dozens of banks, and more than just a daytime work center, has evolved into a 24/7 skyscraper neighborhood, with a residential population that doubled from 2000-2010, to 27,000. A 2013 report found that 19 new condos were under construction, and another two dozen were in the planning stages. Along with this has come the fancy restaurants, bars, light rail, and walkable streets.
"If you're a yuppie in Miami," said a finance-industry woman who I went on a date with in the area, during a characteristically hopping Thursday night. "You're going to live in Brickell."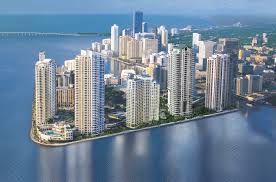 San Francisco, meanwhile, doesn't have a Brickell-like area, and thus not a decisive place for its techies to live. The reason is politics. For one, Brickell's ostentatious wealth displays conform with Miami's culture, but would send San Francisco's class warriors into spasms of outrage. Brickell also wouldn't get built because San Francisco's NIMBYs wouldn't just allow a high-rise neighborhood to go up overnight—or at all. Even when something as harmless as a 12-story condo—8 Washington—is proposed in downtown San Francisco, it faces years of litigation. The stretch of land most eligible to become San Francisco's Brickell would be the Mission Bay area around the Giants' baseball stadium. But much of this land is government-operated, and all of it is regulated, leading to parking lots and low-scale buildings.
If this area were allowed to explode with high-end condos, it would be a natural destination for SF's techies—just as Brickell is for Miami's bankers. Many of America's rich young professionals, after all, have shown a taste for the type of high-rise, upscale, security-laden condos found in Brickell. But because San Francisco lacks such development, yuppies there instead settle for older housing in low-slung neighborhoods like The Mission, Potrero Hill, and the Tenderloin. And this has brought chaos to those neighborhoods, as prices rise and established tenants are evicted.
All this, of course, suggests an ironic aspect of urban housing markets that is misunderstood by most government officials and NIMBYs: "if a city wants to preserve, it must build." In other words, if a city is being flooded with rich people, then allow the market to build to their specifications, namely in under-utilized areas, and watch them concentrate there. That way, they won't overwhelm the old-school ethnic areas, keeping prices down, and enabling those areas to function as they long have.